3 Fantastic Smart Home Upgrades for the Holidays
Splurge on these Control4 Home Automation Features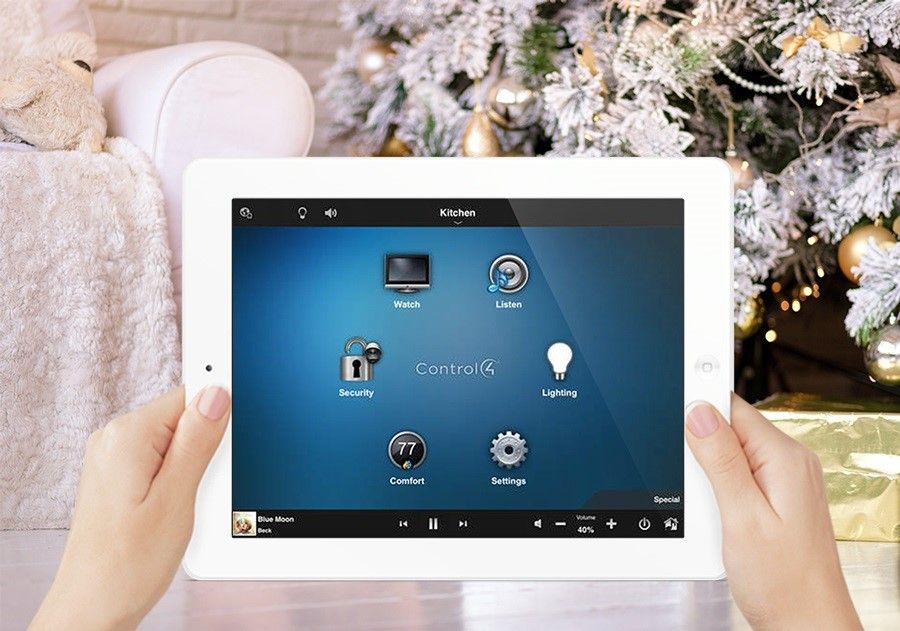 Every holiday season, you go out of your way to find the perfect gifts for friends and family, rummaging through stores and searching Amazon for hours to find something they'll love. Isn't it only fair you do the same for yourself and buy something you're going to enjoy during the holidays and beyond? This year, Control4 home automation can transform your lifestyle with just a few smart technology upgrades. Since it's time to pamper yourself a little, we've highlighted some great options for your Birmingham, MI home below.
SEE MORE: Control4 Is Here to Simplify Your Home
Add Comfort with a Smart Thermostat
Keep yourself warm and cozy this winter with a brand-new smart thermostat that saves you both time and money. It's easy to adjust the temperature as needed using a smartphone, touchpad, or even an elegant Control4 keypad on the wall.
Not only is the thermostat easier to use, but its automated features also take care of all the heavy work on your behalf. Do you like to adjust the temperature throughout the day? Create scheduled scenes that change it at a given time, so it's warmer when you wake up and cooler when you go to bed or leave the house. Allow temperature to adapt automatically if the weather outside changes, or make the temperature go up or down using voice commands. The smart thermostat also works with occupancy sensors, so it automatically goes into energy saving mode when no one is in the house—that way you're not wasting energy on empty rooms.
Intercom from Anywhere
There's a common misconception that technology divides and isolates us, but Control4's new Intercom Anywhere feature is here to debunk that. Letting you communicate with anyone in your house through video intercom, it enables you to stay connected at all times. Everyone in the house can talk to each other through touchpads on the wall without clogging up the phone lines.
An even cooler use of the Intercom Anywhere feature is being able to make and receive calls if you're not home through your Control4 app. Now, if you have someone delivering a package or a contractor that needs to come in, answer your video doorbell from the app and let them in remotely. During the week, call in to check on the kids if they get home before you.
Embrace the Universal Remote
Apps aren't the best way to do everything. Remember the good old universal remote that let you control your entire home theater system? When it comes to AV features, remotes are often still the best way to go. Everything is easy to pull up, and tactile buttons mean you don't even have to look down to get what you want.
Part of the reason we love working with Control4 is that they offer hand-held models that go beyond the universal remotes you're used to. Imagine managing lights, shades, climate, audio, and video all from the same device. Not only do the remotes offer immediate control, but they're highly customizable as well. Get easy access to your favorite features through personalized buttons and home screens.
This holiday season, give yourself the gift of a smarter home. How do you know which Control4 features make the most sense for your Birmingham, MI home? It all starts by setting up a meeting with our team by calling (248) 841-8500, filling out our online contact form or chatting with a live representative.