The Ultimate All-in-One App for Your Smart Home
Explore the Top Features of the Control4 App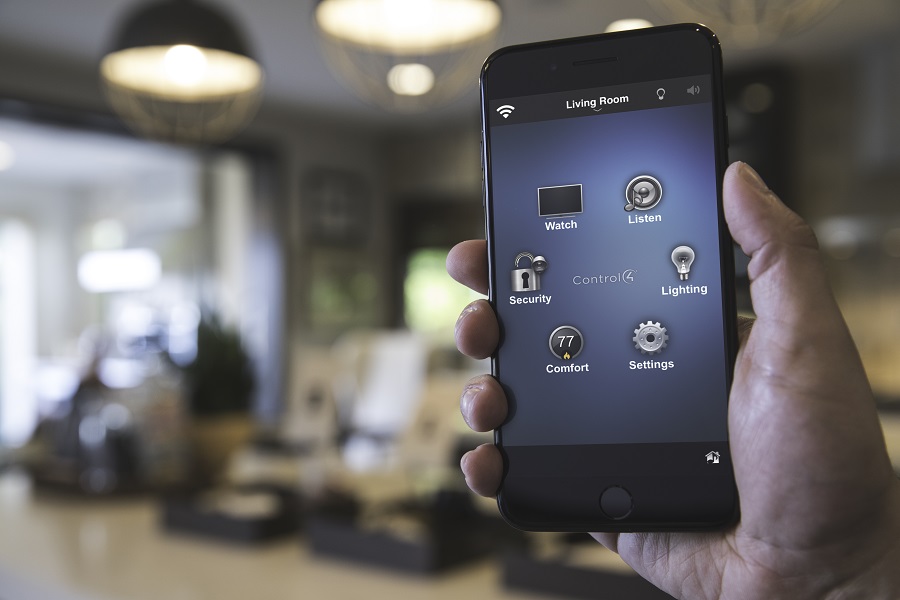 Smart homes are all about creating a more comfortable and efficient relationship between you and your technology. Every new device you add should be easy to use and work well with all your other devices. That is why we recommend going with a Control4 home automation solution that not only places all your technology in one easy-to-use environment but also offers a variety of control options.
Having the ability to control your speakers, lights, thermostat and more from mobile apps is one of the biggest allures of smart technology. But not too many people want to have to use dozens of apps to get through the day. Luckily, Control4 solves that problem by letting you manage all of your home technology from one single app.
SEE MORE: How to Reduce Your AV Clutter With These Tech Tips
Centralized Control
The Control4 app lets you manage lights, climate, security, audio, video, and more all from one user interface. Do you have smart technology in more than one room? Get access to it and make changes even if you're on the other side of the house.
Once you sign up for Control4's 4Sight subscription, you can even pull up your system when you're not home. Do you want to check if you locked the door or turned off the lights? Pull up your app no matter where you are as long as you have an internet connection. And if you need to make any changes after you check in, you can do so directly on the app as well.
Embed Video:
Easy-to-Use Interface
The Control4 app is designed with a simple graphic interface, so it is easy for everyone in the family to use. Not only does it take just a few clicks to make changes, but you can customize the app according to your preferences. Add custom buttons to each corner of your home screen for easy access to your favorite features, scenes, and rooms. These buttons trigger drop-down menus with commonly used actions you can take without ever leaving your home screen.
Multiple Platforms
As we mentioned, one of the best things about Control4 automation is that you get a variety of control options including keypads, remotes, and voice commands. But even within the app itself, you get a variety of platform choices. Use the app on iOS or Android devices, tablets, PCs and even smart watches. The only difference across platforms is that favorites are only available on the PC or Tablet interfaces due to space limitations.
Connected at All Times
Not only does your app let you pull up your technology at any time, but it's also proactive in informing you of what's going on at home. Receive direct alerts when you leave a door open, there's a leak in the house, or someone is at the front door.
Once you add the new Intercom Anywhere app, you'll also be able to communicate with any room in your smart home or someone at the front door directly. Under the call screen, you have access to custom buttons like a "Front Door" one that unlocks the door and disarms your alarm to let someone in.
Get more out of your smart home technology with an app that puts control in the palm of your hands. To learn more about Control4 home automation and how to bring it into your home, contact us by calling (248) 841-8500 or filling out our contact form.