Experience the Ultimate Outdoor Surround Sound System
Today's Technology Delivers Impressive Outdoor Audio and Video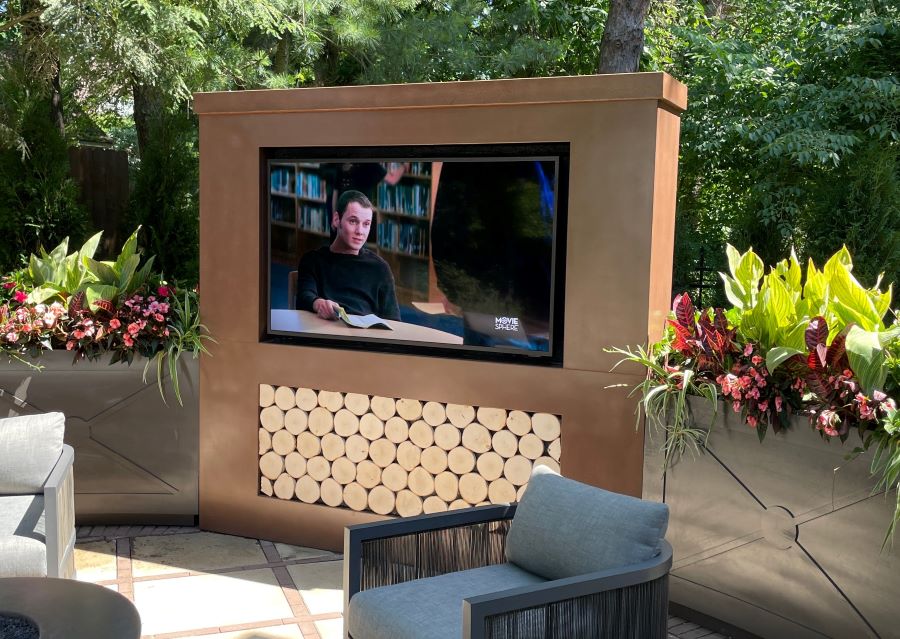 For many, it seems that this is the summer to upgrade their outdoor entertainment area. Maybe it's the joy of having a full-fledged summer with pool parties, outdoor dinner bashes, movies while sitting by the fire, and friends on the patio rooting for their favorite team. Whatever the reason, extending living spaces and creating an exceptional entertainment area to enjoy life to the fullest is definitely in the air.
At Tech Automation, we've been providing our clients in Detroit, MI, with the best-in-class audio-video and home automation solutions for over 17 years. We've seen outdoor entertainment transform from equipment brought out from the house to systems that rival the best home theaters. What was once impossible is now a reality for many--the ultimate surround sound system and video images in their own backyard. Let's see how it's done.
SEE ALSO: Outdoor Audio Immerses Your Life in Music
The Sound that Surrounds You
Many of our clients want to experience high-performance audio that fills the air and surrounds them, whether in their homes or their outdoor spaces. Of course, without the walls to contain sound, outdoor areas can offer a more challenging environment for the immersive sound effect. Fortunately, brands like Triad and Marantz make it possible.
Triad made its mark with high-fidelity architectural loudspeakers that blend seamlessly with a home's design. They expanded their line, building fully custom speakers that satisfied the most discerning audiophile for just about every application. In 2017, they joined forces with Control4 home automation, and came out with outdoor speakers that provide ultra-wide dispersion drivers. These amplifier and speaker combinations deliver a blanket of sound, no matter the size of your estate.
Combined with a Marantz AV receiver, you experience sound the way the creator intended, whether the ultimate guitar rift or an intense soundtrack. Their receivers can easily handle the demands of 4K UHD and HDR streaming. Marantz's newest receivers also support the most advanced entertainment technologies, including IMAX enhanced upgrades and Dolby Atmos Surround Sound.
The Image that Engulfs You
With the right technology, your home entertainment space will become the go-to for friends and family. The latest outdoor TVs offer 4K UHD displays that retain brilliant images even in direct sunlight. They can also endure whatever weather the Great Lakes have in store, including ice, snow, or wind, with some able to withstand temperatures from -40°F to 140°F. But it's the images in brilliant color, clarity, and depth that make you feel like you're on the 50-yard line or immersed in the battle scene. When combined with a surround sound system, you'll experience the immersive audio-video quality found at some of the best outdoor acoustic venues.
To tie it all together, we recommend a Kaleidescape media server. You can download your favorite movies in 4K UHD quality from their digital library. You can even upload your DVDs and Blu-Ray collections to have all your content in one place.
Are you ready to create the perfect outdoor entertainment space? Tech Automation is here to help. To learn more about the latest outdoor audio-video or to schedule a complimentary consultation, contact Tech Automation today.