How to Design the Ultimate Video Conferencing Solution
Get the Right Tools to Match Your Unique Business Needs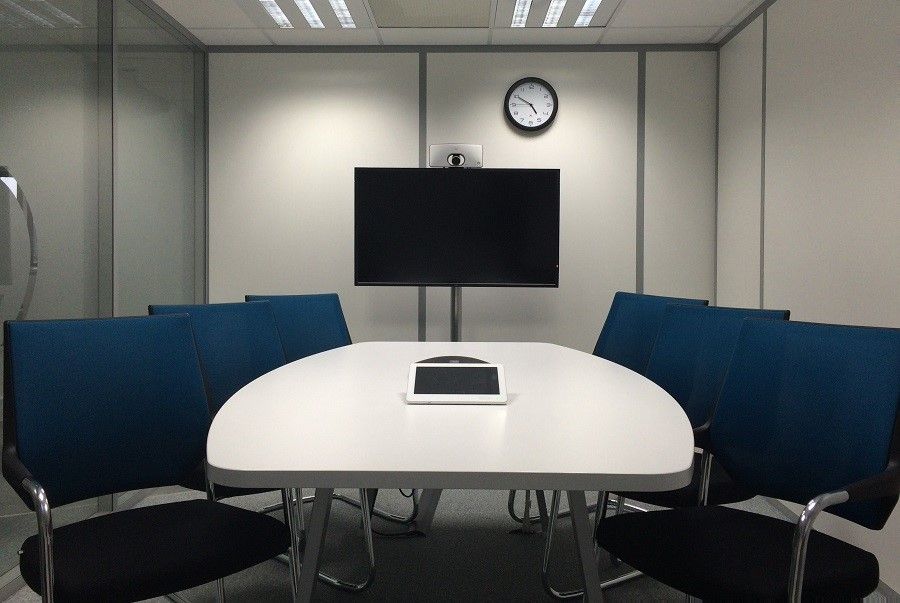 As video conferencing becomes a necessity for many businesses in the Detroit, MI area, it's time to optimize your technology to get the most out of meetings and presentations. You should focus on four things when choosing video conferencing equipment: audio, video, collaboration, and control. Any solution that delivers on those four points will result in effective communication to enhance product development and client satisfaction. Need help figuring out which products can get you those results?
SEE MORE: Do You Need to Upgrade Your Conference Room Technology?
Audio
Did you know most video conferencing complaints have to do with sound? Going with a traditional office conference phone is often not going to cut it. There are a variety of tools from our partners at Polycom to make sure everyone is heard loud and clear.
Do you know what microphone is the right fit for the room? We guide you based on your room size and function to figure out if a simple conference phone upgrade is enough or if a ceiling microphone array is a better option.
Polycom also offers echo cancellation and noise reduction solutions through advanced voice processing. With the company's patented HD Voice feature, the person that needs to be heard comes through loud and clear. Finally, their Acoustic Fencing technology will automatically eliminate any noise not coming from your immediate location—ideal for smaller huddle rooms.
Video
Once you've got your sound figured out, it's time to focus on your video resolution. The whole point of getting on a video call is to be able to engage with people face-to-face. That can make a huge difference whether it's a collaborative work call or a meeting with a new client.
As with audio, the first step is making sure you have business-grade cameras. Cisco and Polycom both offer high-definition cameras designed for video conferencing. They include zoom capabilities, so you can focus in on one speaker or the entire group. They also have pan-tilt options, so the camera follows speakers as they move around the room.
To get the highest quality images on your end, we recommend installing Ultra HD 4K displays. We'll install the necessary wiring frameworks, so you always have reliable, high-quality signals even if you're streaming multiple video feeds simultaneously.
Collaboration
With audio and video optimized, now it's time to bring in the people and content you need. This will come down to your collaboration software. You can go with 'soft' codec solutions like Skype for Business or Go-To-Meeting or hardware codecs from Cisco or Polycom. Your conference room can even use a hybrid solution as long as all your conferencing technology is compatible with both.
How do you know which to use? It will depend on the number of participants you want to include, the type of content you want to share, and how you want to share it. We guide you through the process to find a solution that meets all of your business goals.
Control
The final step is making sure everything is easy to control. From a dedicated touchpad or tablet, all of your employees should be able to pull up what they need and adjust throughout the meeting without the need for IT expertise.
This is when hardware codecs have a big advantage since they have built-in software that makes it easy to manage collaborative features from the same device you use to adjust volume, lighting, and even climate. If your company is already comfortable with a particular 'soft' codec system, we help you integrate it into a hybrid one, so you still get intuitive control of audio, video, and collaboration.
Are you interested in a custom video conferencing solution to better meet your goals? We advise you on the audio, video, collaboration and control tools that enhance company-guide communications. To get started, set up an initial discovery by calling (248) 841-8500 or reaching out to a chat representative on the bottom right.