Top Reasons to Make Your House a Smart Home
How a Leading Home Automation Company Gives You Seamless Control of the Technologies in Your Home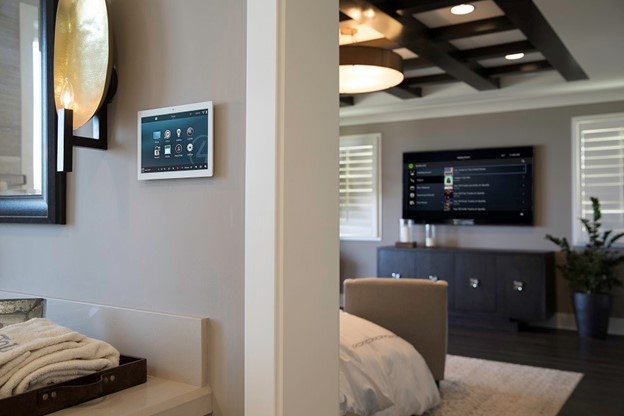 Live life to the fullest in a home that is smart. We're not talking about a voice-controlled remote or an Alexa assistant. Yes, those smart technologies add convenience and luxury to your life. However, if you really want to enhance your living experience, you need to upgrade to a robust home automation system.
Tech Automation is a leading home automation company in Detroit, MI, that can make it happen for you. Let us take your home into the 21st century and beyond by designing and installing a perfect smart home system, customized to your exact needs. From smart lighting and motorized shades to innovative surveillance systems and private home theaters, you'll enjoy the finest an automated home has to offer: Read more to discover the top benefits of having a smart home.
SEE ALSO: Control4 Home Automation Features You Might Not Know About Yet
The Luxury of Seamless Control
Adjust the lights, play a song through your multi-room audio system, and lower the motorized shades with the touch of a button or by voice control. When you have a Control4 smart home, all the technologies obey your command. An automated home connects everything for effortless control of smart lighting, home entertainment technologies, indoor climate control, security, and much more. At the same time, you can control nearly everything remotely – even when you're away from home.
But it gets better. Smart home products are now more streamlined, sleek, and intuitive than ever. Not only do they offer a smarter way to live, but they interface beautifully with your home. Whether you choose classy wall panels or sleek touchpad – or you choose to operate your system through your smartphone – you'll enjoy sophisticated integration that elevates your living experience.
The Ultimate in Comfort & Home Entertainment
Think about your home differently. It's more than just a private space where you eat and go to bed. Unfortunately, many people think of it as a place of requirement. Instead, your home should be a luxurious space that caters to your every need: food, sleep, entertainment, and good times. Smart home automation does it all for you.
For example, automated light control allows you to close your motorized shades in the evening, raise them in the morning, and even change the color of the lights. You can also preprogram your system. In the morning, schedule the smart lights to slowly illuminate while your audio system plays your favorite song to get you going.
And when it comes to home entertainment, it doesn't get any better when you have a home automation system. Just imagine relaxing with your family, a loved one, or by yourself while watching a favorite show or a movie in your home theater. Your premium surround-sound system, 4K TV, ambient lighting, and theater seating help you escape from the world for a while. Best of all, the system lets you control everything with an easy-to-use interface.
A Happier Home with Smart Security
You love your home, and you care for your family. Protect your investment and your loved ones with a smart security system. Even the most high-tech thieves would find it extremely difficult to circumvent a smart surveillance system. Equipped with automatic door locks, cameras powered by AI technology, virtual perimeters, night vision, and much more, any intruder will think twice about breaking and entering.
Like the rest of your smart home, every aspect of your home's security is accessible on your smartphone or smart home tablet. You can even search camera footage with keywords, such as "car in driveway" or "package delivery" to locate specific people and events. If you want to lock and unlock doors or arm and disarm your system remotely, you can do that as well. It's the best way to give you peace of mind in your smart home.
Upgrade to a smart home with help from our home automation company. Learn more by calling Tech Automation at (248) 841-8500 or filling out our online contact form. We look forward to hearing from you.